Innovation training center which trains students in interdisciplinarity, creativity, innovation and transformation
About the Michel Serres Center
The Center Michel Serres is a training center created by HESAM UNIVERSITY. The Center prepares their students for interdisciplinarity, creativity, innovation and transformation, allowing them to face the current and future contemporary and societal challenges.
Many partnerships have been developed with companies and institutions from different sectors of activity, in order to offer students concrete innovation projects that will be useful to each party.
In order to highlight Michel Serres Training Center, HESAM University has selected Digital Cover agency to support them in the creation of this new website.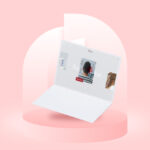 This new website promotes the Center ability to intervene on various projects and with various issues, thanks to their multidisciplinary skills. The objective is to show their know-how to their potential new partners.
The website offers to users an innovative, refined and professional interface, in order to give a modern image of the Training Center.
But also, to promote the work of former students of the Michel Serres training center
For this project, Digital Cover agency proposed a functional and optimal website, meeting the objectives of the HESAM university.
The Michel Serres Center does not have a website, so the graphic charter was almost non-existent. Our design department was therefore able to start from scratch in order to offer a creative and innovative website. Only a few main elements of the HESAM charter have been taken over, such as the red color of the HESAM university to maintain a relationship between the two entities as well as their logo.
Considerable thought was given to the UX Design of the future website, so that it offers smooth and pleasant navigation to users. Two navigation methods have been designed:
The first method implemented was to allow the exploration and immersion of the user through a slider created on the Home Page. A real red thread allowing the discovery of the different fields of intervention of the Michel Serres training center, as well as their various projects, in order to highlight their multidisciplinarity.
The second, more direct method of navigation was to insert two menus. One allowing navigation by project category and the other, more general, allows you to browse the history, the projects as well as the existing partners easily.
Throughout the course, links between training courses, projects and partners are established, in order to highlight the work carried out each year.