Discover the world of MTG, combining interior architecture and custom-made furniture
About MTG Interior
Mélanie Montagne, interior designer in Lyon, wanted to bring a new digital dimension to her profession. Founder of her own firm: MTG Interior, which combines interior architecture, layout and custom-made furniture, Mélanie Montagne offers her clients personal and intimate advice on each project.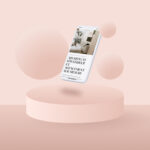 Starting from an existing graphic charter, our artistic direction used powder pink and white as well as rounded shapes that bring a reassuring feeling in order to obtain a website in the image of Mélanie's creations: welcoming and warm.
In order to create a clean website, we paid great attention to the photos of Mélanie's projects which are very qualitative and invite visitors to contemplation and projection. We also played with the superposition of colored and black and white photos in certain blocks of the site to enhance Mélanie's content.
Full-screen videos are present during the user journey allowing direct immersion in Mélanie's projects. These videos play on the visual diversity of the content and thus give more dynamism to the interface.
To bring elegance and credibility to the website, we used an oversized serif typography by coupling it with a more modern and refined sans serif typography to allow good readability on both computer and mobile.
Web developers translated minimalism and fluidity through light and punchy animations that highlight the most important content with:
The appearance of titles in a soft and fading way to attract the user's eye and simplify reading.
The use of a smoothScroll and animations with inertia to improve the feeling of fluidity when navigating the site.
Finally, in order to guarantee simple and efficient navigation for the user and a site optimized for SEO, the performance manager ensured the implementation of all SEO and UX (SXO) best practices: a responsive website, optimized loading times, impeccable code quality, animations to meet needs, a clear tree structure and relevant content based on strategic queries.
Digital Cover agency has also been referenced in the TOP 10 of the best web design of websites in the architecture category: TOP 10 Architecture Website Designs