Emlyon junior consulting, expertise and consulting serving companies since 1972
About EM Lyon Junior Conseil
Since 1972, EM Lyon Junior Conseil has been advising all types of companies in France and abroad by carrying out consultancy studies in auditing, communication, entrepreneurship, finance and strategy.
As the 3rd Junior Enterprise in terms of annual turnover and best Commercial Junior Enterprise in Europe, EM Lyon Junior Conseil supports more than 160 clients each year.
Composed of 21 student project managers and a network of 5,000 students on 5 continents, EM Lyon Junior Conseil called on our web agency to redesign their website.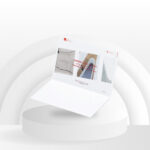 The client contacted us to create an ergonomic website, with UX/UI thinking and an attractive design.
The objective of this new design was to increase the conversion rate and generate around thirty leads per month by targeting large international companies.
A 100% SEO optimised website was part of the project.
Our performance manager, artistic director and web developer worked hand in hand to combine web design, code and semantic content. We put the site online with a loading time of less than a second thanks to a lazy loading system of images and a fast reloading of web pages in full ajax.
To reduce the perceived loading time between two pages, we have implemented customizable page transitions.
Essentially designed to improve user experience, this website is also optimized for natural referencing.